Today at the Ink and Paint Corner, I'm going to be making another Top 10 List.  I don't normally do lists but, having recently watched Frozen, I have had an urge to watch and discuss more Disney movies.  It's a curse, really.  I've decided to compile a list of some of my favorite characters from the animated Disney canon.  Please keep in mind that, aside from the top three, these are in no particular order, just a collection of characters that I, for one reason or another, really enjoy.  In fact, I probably won't even agree with the order come tomorrow.  Ever changing mind, I suppose.  I love these characters and I hope that you do as well, here's my Top 10 Personal Favorite Disney Characters.
Number 10:  King Triton and Sebastian, The Little Mermaid
First up is a duo, King Triton and his loyal servant Sebastian.  These two are in the same boat (no pun intended) on this one because they both go through a very similar character arc.  Both are loving guardians of Ariel (and I'm assuming Triton's other daughters as well) and both learn to let go and allow her to make her own choices in her own life.  I also love how both of these characters go out of their way to help and protect Ariel.  And even though I have my own problems with Ariel as a character (seriously, does she even say thank you to everyone who's helped her?) I can't deny that she has one of my favorite fathers in Disney's roster.  Plus, I'm a total sucker for a good father figure.
Number 9:  Tod and Copper, The Fox and the Hound
Another "tie" entry, I felt that I couldn't separate Tod and Copper (ironic, no?) because it's truly their relationship that I admire the most.  As stand alone characters, neither of them are remarkably memorable, but together they form one of Disney's most famous and heartbreaking duos.  The classic tale of two friends who are torn apart by societal norms is such a poignant one that I almost forget that  their movie succumbs to the horrors of comedic padding and fear of killing off characters that, story-wise, should have undoubtedly died.  Give Disney credit, though, it had to have taken a lot of guts for a company with a very specific demographic to end the film on such a heavy, somber note.  Props, Disney, for making a wonderfully crafted friendship that to this day is being made into unsettling artwork on the internet.

Number 8:  Tarzan and Jane, Tarzan 
Okay, ANOTHER pair but I promise that there will be more singular character entries.  As for Tarzan and Jane, I've always been a fan of the story of Tarzan.  I've always thought that, at the very least, it was a very creative story with the feeling of a "modern day fairy tale".  And then Disney adapted it to film.  Among the numerous things that Disney actually improved from the source material was the characterization of the two leads.  They did a wonderful job at exploring the curiosity each of them garnered for the other and made Jane a wonderful example of how to write a "damsel in distress".  She's not a super tough or even competent person but she's not devoid of personality, either.  Tarzan is extremely well done, too, and Disney did a great job with his progression through realizing who he truly is.  And they get a major thumbs up from me for not having Tarzan find buried pirate's treasure, explore an aboriginal African village, and learn French and English as he treks through Northern Africa in order to reconnect with Jane.  On second thought, that book was kind of goofy.
Number 7:  Lilo and Stitch, Lilo and Stitch
Okay, last one, I swear.  Both Lilo and Stitch are on my list for one reason.  I adore stories about outcasts who become friends with other outcasts.  I can't explain it.  I'm just very attracted to that sort of story.  On top of that, both characters go through trials and tribulations that allow them to connect with one another.  Lilo is a lovable oddball with a broken family who desperately wants to reconnect with her sister and Stitch is a lovable oddball who happens to be an alien experiment hellbent on havoc and destruction.  It's the perfect pairing.  Both are lovable misfits within a very touching story.  Also, Nani was a close contender for this list but I wanted to keep it down to one entry per film.  Sorry, Nani fans.
Number 6:  Megara, Hercules
Megara is an interesting one in the Disney heroine line-up.  You see, in the nineties, Disney was desperately trying to subvert their princess trope with mixed results.  They were either having the women participate more in the overall story, as with Ariel and Belle, or they were shoving the character's independence down our throats to the point where they just came off as trying to hard (*cough* Mulan *cough*).  But Megara is different.  She has a realistic (or as realistic as you can get in a Disney movie based on ancient Greek mythology) history in which she sold her soul to Hades in order to revive her recently deceased lover.  Said lover immediately ran off with another woman as soon as he returned to life.  Fantasy elements aside, there's something very relate-able about being scorned by someone you once held dear to you.  She then, believably, is hesitant to connect with the titular Hercules and even sings the best song in the film, I Won't Say I'm In Love.  Even though I'm not the biggest fan of the movie, Meg is one of Disney's crowning achievements in female characterization.
Number 5:  Judge Claude Frollo, The Hunchback of Notre Dame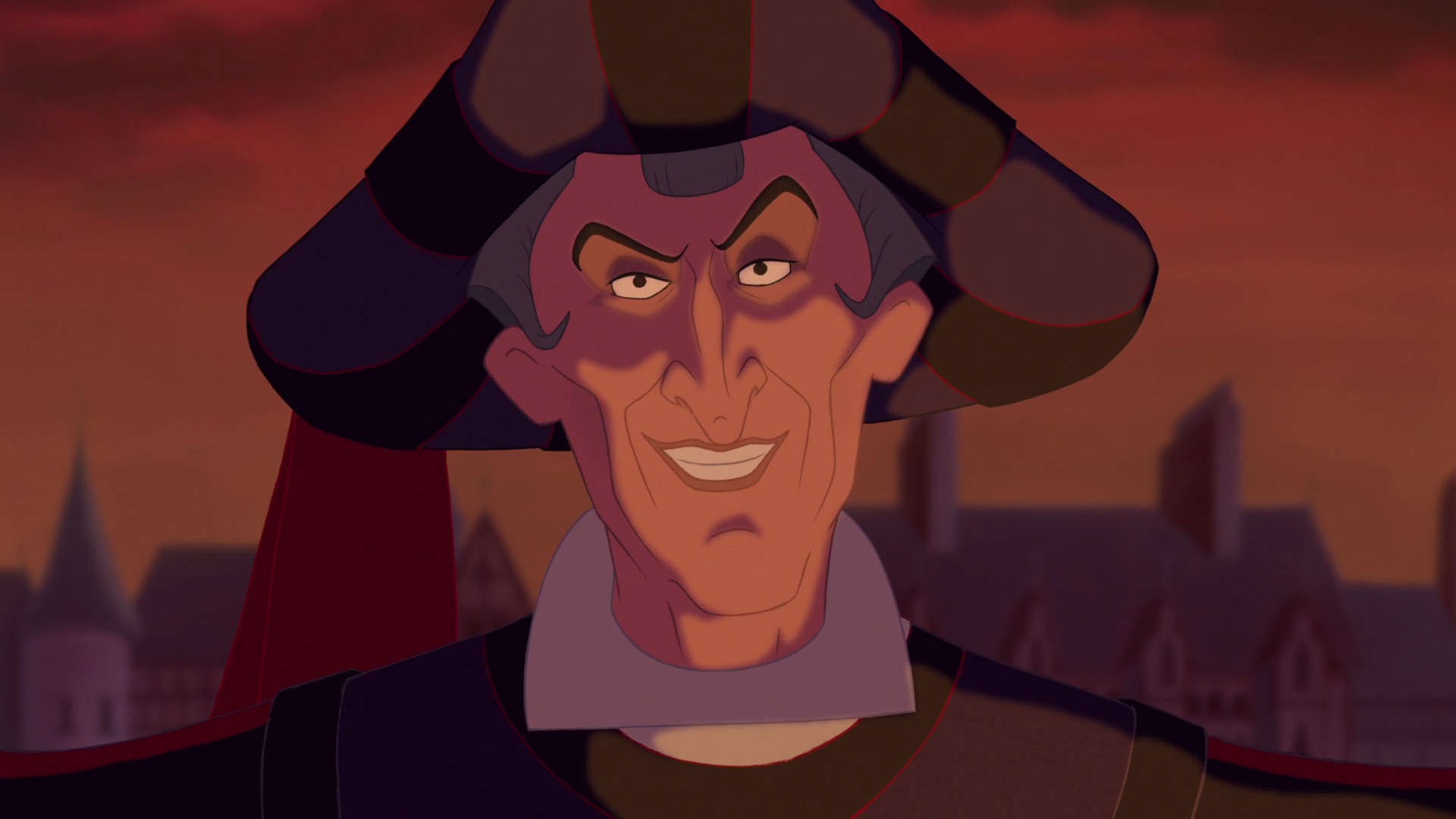 Okay, you probably new this was coming.  A very predictable choice, to be sure, but Frollo is the most despicable, cruel, and amazingly complex villains in the entire Disney canon.  Sure Scar killed his own brother for the throne, but Frollo had an unwarranted, racist, hatred for all of the gypsies and orders their genocide.  Maleficent attempts murder over nothing more than not being invited to a party, but Frollo attempts murder because of his corrupted faith and blind morality leading him to either have Esmeralda pledge herself to him for the rest of their lives or burn her alive for being attractive.  Ursula wants to rule a kingdom, but Frollo NEEDS to rule his.  There is no want with Frollo, whatever it is he does, he wholeheartedly believes that he NEEDS to do it for the greater good and that is what makes him such a compelling villain.  He is mentally unsound in a Batman villain-esque way.  His way is correct, therefore he is correct and nobody is going to convince him otherwise.  Also, Hellfire.
Number 4:  Aladdin, Aladdin  
Aladdin was one of my favorite movies as a kid, which is probably why I've placed him so high on this list.  As I've gotten older, however, Aladdin appeals to me in more and more ways.  The first is that Disney really worked their ass off to make Aladdin work as a character.  He lies, he steals, he cheats so why do we root for him?  Is it just because his name is in the title?  Is it because of that one scene where he gives his ill-gotten food to starving children?  Maybe.  But I think that it's because he's human.  Obviously, he's not REALLY human, but he's written as one.  He can be selfish, he can be deceitful, and he can be kind of an ass sometimes.  That's good.  Disney has also been subverting their, often forgotten, trope of incredibly boring and dull male leads.  Disney has gotten much better a characterization of both genders over the years and I believe that Aladdin is proof of that.  Also, I've always admired the fact that Aladdin doesn't win in the end because of his physical strength or overpowering might, he has to use his intelligence in order to trick Jafar into imprisoning himself.  That's always a welcome change in my book.
Number 3:  Tinker Bell, Peter Pan
Tinker Bell is one of Disney's best.  Her character incorporates real emotion and real passion and she is definitely one of the best female characters that Disney has ever produced.  Even though she remained silent throughout the entire movie, her personality, motivations, and emotions are clear.  On top of it all, she's very human.  You know, for a cartoon fairy.  Just like Aladdin, she isn't the perfect Disney character that had plagued the studio for so long.  She was jealous, she was vindictive, she attempted murder.  Okay, that last one IS a bit harsh but she's so well-written that you forgive her.  You understand why she sells out Peter Pan and you can easily relate to her character.  And aside from all of that, she's funny.  She is one of the only Disney sidekicks that I find genuinely humorous.  In fact, she'd be my favorite female Disney character if it weren't for…
Number 2:  Queen Elsa of Arendelle, Frozen 
As I have recently stated, I am a huge fan of Elsa's character from Frozen.  Her, mostly internal, struggle is very unique and mature for Disney.  Having to deal with anxiety, social pressure, and overwhelming responsibilities make Elsa very easy to relate to and her magic powers are just the icing on the proverbial cake.  Get it?  ICE-ing.  Sorry, I'll stop now.  Elsa really works as a character and Disney did a great job at making sure that she didn't devolve into their archetypal villain.  She's sympathetic yet threatening, at least to the residents of Arendelle.  If you care enough, I went into much more detail on her character in my Frozen review which you can find here: https://inkandpaintcorner.wordpress.com/2014/01/14/a-not-so-brief-discussion-of-frozen/
Number 1:  The Beast/ Prince Adam, Beauty and the Beast
As you've probably already guessed, as I've stated before that the Beast is one of my favorite Disney characters, he's on this list.  Upon revising my list, however, the Beast inched his way up to becoming my absolute favorite Disney character.  Maybe it's the way that they made his, surprisingly cruel and malicious, character sympathetic and like-able, or maybe it's because of his ingenious design and brilliant animation.  Whatever the case, the Beast is a hugely appealing contender.  His progression throughout the film from someone who was, understandably, distraught and violent into someone that you actually might want to be around was one of Disney's biggest accomplishments within the Disney Renaissance of the early nineties.  His eventual kind nature is present, albeit subtly, at his introduction as he has the weight of not only his own cursed and disfigured existence resting upon his shoulders, but also those of the servants that loved and presumably raised him, as we never see or hear of his parents within the film.  So, all around, a complex, well executed, and memorable character and my personal favorite Disney character of all time.
I hope that you enjoyed my list of some of Disney's greatest characters to date.  If you have a favorite Disney character that I didn't mention, or even one that I did that deserves more attention, feel free to leave a comment.  I'll see you all next time on the Ink and Paint Corner!